Bridgeman Images Tiers FAQ
Bridgeman Images is an ever-growing archive of art, culture, and historical images. T
o support your journey through our website, we grouped content into three tiers:
Standard, Premium, and Gold.
What is in it for me?
Discover more exclusive content
Work with a simpler system that will strengthen your confidence in our copyright service.
No hidden fees - Our Standard, Premium, and Gold tiers will provide clear visibility on our pricing structure and identify which content requires an additional fee.
Our new Premium and Gold tiers are services where the artist's copyright clearance is included*
How do I know if it is Standard/Premium/Gold when looking at an asset?

Two new logos have been created to reflect the Premium and Gold Tiers. If an asset is Premium or Gold you will see the logo below. Standard Assets will have no logo attached.



Can I filter my search by Tier?
Yes, you can. The option to filter your search results by Tier is available in the advanced search option as shown below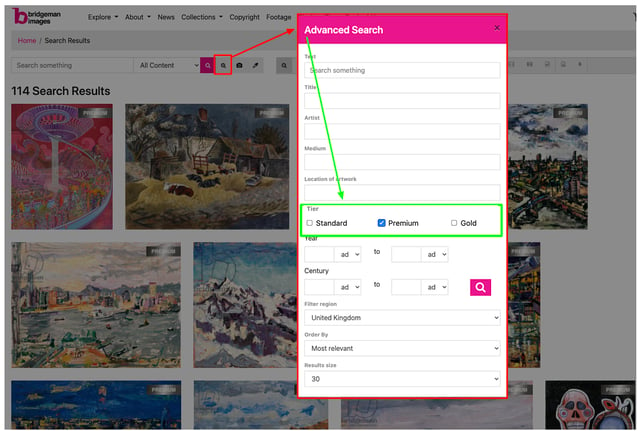 After I have filtered my search to see only exclusive content, can I refine my search even more?
Yes, after you have selected the Tier you want from the Advanced Search menu, either Premium or Gold or both, you can use keyword searches to further refine your results.
Click on the Search Within Results icon which will open a search bar and you can enter additional keywords.

In this example, the search is for 'cat'.

Does the additional fee cover the copyright?
For Bridgeman Artists Premium & Gold, the additional fee (copyright fee) will cover the artist's copyright, reflected at the download stage and on your invoice.
On a selection of photographic archives exclusively distributed by us with an important artistic and /or historical value, a Premium fee will apply which will be reflected at the download stage and on your invoice.
Does it affect price agreements in place?
It depends on what type of agreement you have in place. Premium and Gold content can be added to your current plan. We would recommend you contact your account manager to review your agreement and tailor it to fit your needs.
Does it include any additional 3rd party rights?
3rd party rights such as trademarks, model releases, or copyright objects depicted in the image are your responsibility to clear whatever the category.
Our team at Bridgeman Images can provide guidance with this process.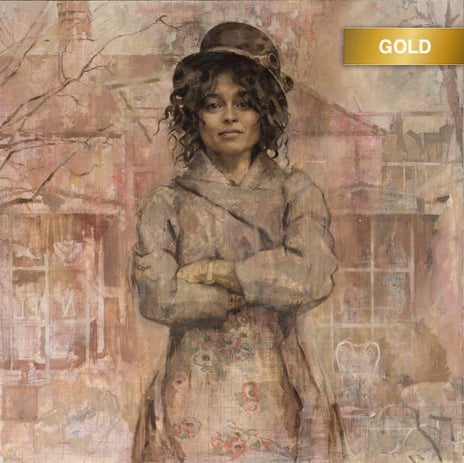 * Please note that it is your responsibility to clear any additional 3rd party rights such as model releases, trademarks, personality rights - Bridgeman Images can help you with these additional clearances.